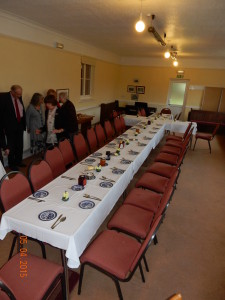 The Easter Sunday Service was very well supported, at least 60 people, with ages ranging from 1 to 93 years. The Chapel was beautifully decorated with many spring flowers and was dominated by the large cross erected at the front (see photo).
The morning started with breakfast in the Sunday School, followed by the Service led by Revd Robert and, as ever, he was interesting, informative and sprinkled with humour. Easter eggs were hidden around the Chapel and the children got up and searched for them, gave them to Revd Robert who then shared them out amongst the children.
There was Holy Communion and the congregation took up posies of flowers to put around the Communion Rail. At the end of the service the flowers were put around the cross which had been place outside on the bank (see photo).
It was a good morning.